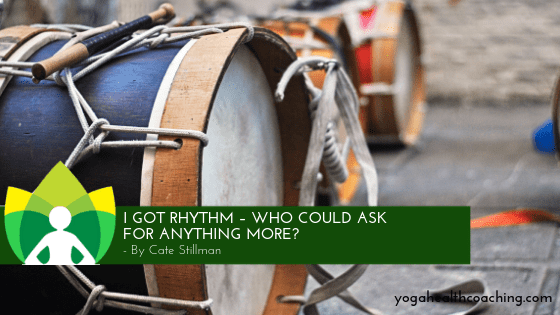 I GOT RHYTHM – WHO COULD ASK FOR ANYTHING MORE?

The Gershwin Brothers were ahead of their time when they wrote their iconic song.
They may or may not have been hip to the rhythm of nature, but they were certainly hip to the rhythm of music. They're not dissimilar.

The mountains of Bavaria are stunning and provide a perfect backdrop against which to write my inaugural blog on rhythm. Where better to feel the cycles of nature than wrapped in the arms of Mother Nature's sattva? With unobstructed ease, far from the pulse of the big city, I can feel her rhythm.
It's effortless. It's a relief.

Let's consider this axiom: Nature throbs with stunning intelligence.
From the Big Bang billions of years ago – that moment when Nothing became Something – this seminal pulse has trickled down in infinite waves of polarity since the beginning of time:Sunrise/sunset, th                                e four seasons, the ebb and flow of the tides, the contractions of a mother in labor, our first and last breath, a heartbeat, a cell.
Every aspect of life mirrors the initial pulse of Consciousness' move towards Manifestation.

Nature pulses and Ayurveda, a system of healing that has its roots in ancient India, reminds us of the importance of living in accordance with that pulse; we have our individual dosha (our constitution), certain times of the day have a dosha, every season has a dosha, and even the stages of our lives have doshas. Rhythms upon rhythms, cycles within cycles, the elegance and logic of nature are astounding.
Lately I've been diving deeper into Ayurveda with a focus onDinacharya – basing our daily routines around the cycles of nature.
Dinacharyatakes advantage of the shifting qualities in each time of day, season, and environment to determine the best activity to engage in and when to engage in it.It teaches us how to plug our individual lives into the bigger flow.
I'm interested in rhythm because I know what it's like to be out of rhythm. I've been an urban dweller for most of my life. New York→ Los Angeles→ Paris. Cities dance to the beat of a different drummer making it difficult to heed the call of Nature . I've worked too late, eaten too late, over-slept, and allowed myself to be seduced by the over-stimulating temptations of Bright Lights Big City.
A day in my life in L.A. a few years ago looked something like this:
I weave though traffic with a sandwich in one hand, steering wheel in the other, iPhone attached to my ear – and then wonder why my digestion is off.
I meditate daily but then crawl into bed with my computer and answer stressful emails seconds before I shut my eyes – and then complain about poor sleep.
I do a strenuous yoga practice at 7:00 pm ("It's the only time I could fit it in!") and then wonder why I feel depleted the next day.
Sure Iwas feeling OK, but I wanted to feel great. It was baffling because I thought I was doing all the right things. When I reflect on those days now I see that in spite of all my yoga education, I was completely missing the simplest connection between Cause and Effect.
Cut back to that sandwich-scarfing car ride in LA; the sandwich from Whole Foods wasn't the problem (it was, after all, an organic, veggie sandwich on gluten-free bread) but HOW, WHEN,and even WHY I was eating it was clearly problematic. I was completely out of synch, committing crimes against nature at every right turn, left turn and U-turn.
At that time I'd never heard of Dinacharya, so my self-prescribed remedy for better health didn't include realigning my daily lifestyle routines but rather to simply pile on more hatha yoga … and then blame The Yoga for not working.
About a year ago I began making some serious changes in my daily rituals. They were simple on paper but not easy to implement: 8 habits that would transform my perception of what 'wellness' looked like. Early to bed, early to rise, a light dinner ending by 6:30pm, and a new hygiene regimen that challenged my westernized addiction to triple-milled soap.
Adopting these new habits was akin to taking a sledgehammer to concrete because my previous routines were so deeply encruste in the fiber of my being by culture and family that even the slightest shift turned my world upside down. Basically I had to unlearn how I'd lived the past 5 decades of my life and become clear on what patterns I was willing to sacrifice in order to stand in better health. It's still a struggle but becoming less so over time because the cycle of cause and effect is finally sinking in.
We're living in a 24/7 techno-driven world, and we have unplugged from The Flow. I see the repercussions in many of my students in the form of chronic anxiety, depleted energy, poor sleep, and a host of other maladies.
Our ancestors got it right. They instinctively knew how to attune with nature – rising with the sun, powering down at sunset, eating their biggest meal during the day when the sun was burning as brightly as their very own digestive fire. Their inner eco-systems were calibrated with their outer eco-systems.
My vision for my students, friends, family, and myself is to recover that innate logic; to reunite with what always was but has been forgotten; to coach and ultimately create a support structure so we can make meaningful changes and evolve our health. It's so basic and yet so revolutionary. An aligned routine, practiced daily, is stronger medicine than anything out there.
I see now how the universe is perpetually opening her arms and inviting me to step into the flow, and it's becoming increasingly difficult to ignore that embrace. Because within her arms, within that flow, lies an empowered life.
Who could ask for anything more?
This is a guest blog post by: Marc Holzman