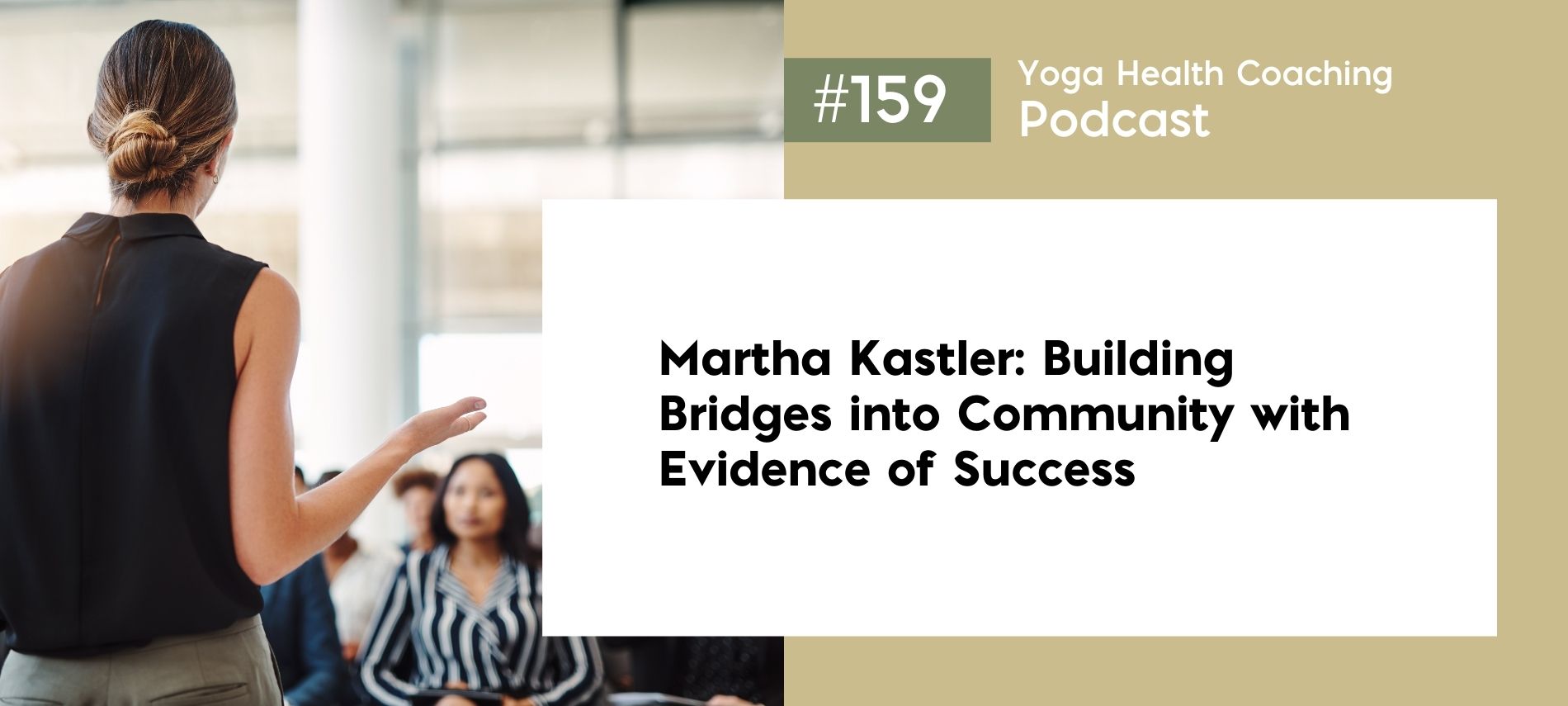 Martha Kastler: Building Bridges into Community with Evidence of Success

Martha Kastler has been struggling to create bridges in her community. Looking to expand her wellness coaching to a more diverse audience, Martha connected with Cate to find efficient ways to do it, and strategies to overcome resistance.

In this Yoga Health Coaching episode, you will learn about the benefits of measuring success both for yourself and your clients, how to organize your free talks to create new leads for your business, and how to introduce the habits of Ayurveda to a new audience.
What you'll get out of tuning in:
How to identify evidence of success
How to overcome resistance
How to prepare for a free talk
Links Mentioned in Episode:

Show Highlights:
Using free talks to create new leads
Introducing the habits to new people
Identifying the changes people want to make
Timestamps:
0:39 Creating bridges between different teachings
5:09 Identifying the evidence of success
10:11 Overcoming resistance and looking for your why
15:24 Preparing for your free talks
Guest Bio: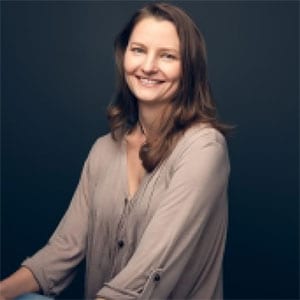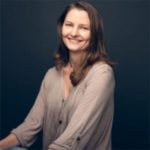 Martha's initial 250hr yoga training was in 2009 in Blacksburg, VA with Blue Ridge Massage and Yoga. There she studied Ashtanga Yoga with Jeff Tiebout. In 2016 Martha completed a 250hr Jivamukti based training with Andrea Boyd and Jeffrey Cohen in Charleston, SC. Having suffered numerous traumas and physical injuries, yoga was the first practice that showed Martha she has the potential for self-healing. The deep-focused practice of intentional movement and breath awakened a profound desire to heal and be of service. Martha became fascinated with breath, energy and meditation. Powerful releases in yoga lead her to the subtle healing modality of Restorative Breathwork®. Having a profound healing through Restorative Breathwork® she pursued the extensive 2.5 year study with Kathleen Barratt and became a certified facilitator in 2013. Simultaneously, she embarked on a 3 year training with Kathleen's energy teacher world renowned Mietek Wirkus, and was certified the same year at the master level in Bioenergy. More recently in 2018, she completed certification in a powerful psychosensory technique called Havening® and in 2019 she received her Ayurvedic Wellness Coaching certificate from Katie Silcox's Shakti School. Along with her trainings she is devoted to and supported by the Kriya lineage as a student of the Self Realization Fellowship. She is learning in this school of life in her own way and embracing challenges on the path as opportunities. She enjoys facilitating healing sessions using her unique skillset and exploring and teaching various styles of yoga: gentle, flow, ashtanga short form, somatics, hatha, restorative, and meditation. Off the mat Martha is often frolicking in the woods, mushroom hunting, saying hello to forest friends or moon bathing, she's falling in love with food and cooking what nourishes her, she loves chanting, dancing, a little biking and backpacking, and chilling with her two one-eyed cats.

Cate Stillman founded Yogahealer.com in 2001 to guide Yoga people into Ayurveda and Ayurveda people into yoga. Built on the value of both personal and planetary thrive and a deep connect to one's ecosystem, community and body, Yogahealer grew into a team, 2 podcasts a week, regular blogging, an arsenal of courses to guide people into their potential, an a professional community + certification program Yoga Health Coaching. Cate wrote and self-published Body Thrive: Uplevel Your Body and Your Life with 10 Habits from Ayurveda and Yoga, an Amazon #1 Bestseller in Ayurveda, which helps people who dig yoga take a giant leap forward in their wellness trajectory with Ayurveda.