Meal Spacing + Intermittent Fasting for Hypoglycemic Underweight Vatas

Johanie struggled with an eating disorder and other health problems including asthma since she was a child. She also lived in a violent household. Cate and Johanie discuss how internal stress and external health issues and how Johanie has overcome her own health crises through ayurveda and habit evolution.

Through Cate's Body Thrive course, Johanie learned how to create healthy daily habits as well as the importance of breath work and meal spacing. She discusses her new way of looking at her needs and her hunger and talks about all the positive changes she's made in the process.
What you'll get out of tuning in
How ayurveda can heal chronic illness
Why changes in habits affect changes in beliefs and identity
What you can learn from the Body Thrive course
Links

Show Highlights
01:43 Johanie tells the story of her childhood, being sick and also living in an abusive environment, her life into her teens, digestive issues and immune issues, kidney failure, and other ailments
10:03 – Johanie discusses a pivotal moment in her life: Attending an ayurvedic retreat
16:42 – How Johanie found Cate and the Body Thrive course
22:07 – Johanie talks about how other people perceive her as she creates her new identity
28:40 – What's next for Johanie: Energy and healing as a way to help others
Favorite Quotes
"Making peace with my past was a big thing." – Johanie
"I don't have to be perfect, I just need to enjoy the process." – Johanie
"Healing comes from a spiritual space that you make." – Johanie
Guest BIO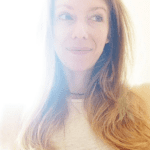 Johanie Poulin, having found ayurveda at a healing retreat, has transformed her life from one of being sick and tired to one of health and hope.
Now in her mid-thirties, Johanie's mission is to continue her path of healing and to spread the word of her journey.

Cate Stillman founded Yogahealer.com in 2001 to guide Yoga people into Ayurveda and Ayurveda people into yoga. Built on the value of both personal and planetary thrive and a deep connect to one's ecosystem, community and body, Yogahealer grew into a team, 2 podcasts a week, regular blogging, an arsenal of courses to guide people into their potential, an a professional community + certification program Yoga Health Coaching. Cate wrote and self-published Body Thrive: Uplevel Your Body and Your Life with 10 Habits from Ayurveda and Yoga, an Amazon #1 Bestseller in Ayurveda, which helps people who dig yoga take a giant leap forward in their wellness trajectory with Ayurveda.