Your Path to Success: Leveraging Lessons Learned

The road to success is always bumpy and has detours. If you take on the mindset that your career is your spiritual path — and that your spiritual path gives you protective armor and tools for learning and growing through whatever you encounter — then by golly, you'll be successful beyond your wildest dreams.

Perseverance to reach a goal, without attachment to how you'll get there or how easy it'll be, is key. Being willing to invest appropriately for a scalable return on investment is another goal. Both keys are tackled head-on in today's episode.

The other very big concept here is that you're after continual evolution of your lifestyle design. Or maybe I'm projecting. I'm after continual evolution of my lifestyle design while I hit increasingly challenging career goals. I'm upping my impact and my days off, and my zone of genius days on, simultaneously. I'm having more fun than ever.
I know this is what we all sense is possible. Getting there is a question of wanting it enough to grow through the shadow issues that tend to surface when you get real about your career. And don't forget — once you have the right business model, all your past investments will start to pay off. You'll be able to properly offer your unique services and all the experience and education that you already possess!
I rap with Grace Edison about Perseverance and Investment in Lifestyle Design:
How to make past career investments work for you in the future
What John 1:2-4 has to do with your holistic career success
How to leverage a new strategy to propel yourself and your business forward
What you'll get out of tuning in:    
Learn what LLs are and why you need to experience them before you experience an accomplishment
See why you actually want to set yourself up for multiple failures in quick succession to enjoy incredible success
Learn a cohesive strategy for synthesizing your skills and investments to see amazing business growth
Links:
Related podcasts:

Show Highlights:
1:40 — We're all familiar with the concept of planting seeds and having some of them sprout into large plants. Others might be latent and not sprout for years. That's how investments in your career may be, too. Those career seeds may not produce growth until later on, but they still need to be nurtured.
4:15 — It's natural to become frustrated with the hard times. But when we learn the lessons and learn a leverageable business model that works with our lifestyle, we relax into the realization of the true benefit of taking a wellness pro career on as a spiritual journey.
9:10 — Many wellness pros often don't have the right strategy, and it's hard when you have too many bits and pieces of information but don't know how to synthesize them. A solid business strategy helps those pieces come together to increase profits, both monetarily and in the ways you can help people.
16:40 — There aren't many wellness pros out there who have had sales training. Many of them have invested in a lot into their careers, but sales isn't part of that for them. It's a piece of training that all of them will need, and it's important to invest in, even though it might not click initially. Making and nurturing that investment are key.
Favorite Quotes:
"There's certain things we can do to get our seeds to sprout sooner to get the results that we're wanting sooner." –Cate Stillman
"There are ways we can cause things to line up." –Cate Stillman
"When we know that the deep desire of what we want to do is aligned, and we accept our career as our spiritual journey, we accept that we are going to have strong desires to do things. They're going to bring us into a fierce learning path." –Cate Stillman
"Failure is freaking awesome! We. Want. To. Fail! If we want to get somewhere we're not currently, we want to set ourselves up for multiple failures really fast." –Cate Stillman
"There's a gotta be a baseline to get people to results. And there's a lot of fun things you can do to make the journey a little more unique and true to you." –Cate Stillman
"Don't write yourself off." –Grace Edison
"Just do a few things really well, and your people will thank you." –Cate Stillman
Guest BIO: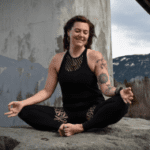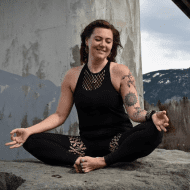 Grace Edison lives in British Columbia, Canada. She's a mom of twin 8 year olds, a Yoga teacher, studio owner, and Yoga Health Coach — and she also works for Cate Stillman in Admissions at Yogahealer! More than anything, she loves to make people laugh and has a not-so-secret dream of doing stand-up comedy. Grace has a strong passion for empowering others to take their health and wellness into their own hands. She loves building authentic relationships, making people laugh, and creating supportive communities. After a long-standing relationship with severe depression, Grace has found deep relief through the habits of Ayurveda — and much credit is due to Cate and her Body Thrive program. After taking Body Thrive several times and jumping into Yoga Health Coaching, Grace came aboard the Yogahealer team.

Cate Stillman founded Yogahealer.com in 2001 to guide Yoga people into Ayurveda and Ayurveda people into yoga. Built on the value of both personal and planetary thrive and a deep connect to one's ecosystem, community and body, Yogahealer grew into a team, 2 podcasts a week, regular blogging, an arsenal of courses to guide people into their potential, an a professional community + certification program Yoga Health Coaching. Cate wrote and self-published Body Thrive: Uplevel Your Body and Your Life with 10 Habits from Ayurveda and Yoga, an Amazon #1 Bestseller in Ayurveda, which helps people who dig yoga take a giant leap forward in their wellness trajectory with Ayurveda.