Why Your Wellness Biz MODEL Matters

As a wellness pro, how do you get people to commit to real transformation? If you want to effect real change, you need to cultivate a dynamic group full of people who have skin in the game. They have to be financially invested. Stop trading your hours for dollars. Give your people an opportunity to really grow and evolve with a more effective business model. Yoga Health Coaching is holistic business training for wellness pros.
What you'll get out of tuning in:
Why the one-on-one and one-off models don't work.
Why guided transformation is replacing packaged peak experiences.
Why Yoga Health Coaching isn't just for yoga teachers.
Links Mentioned in Episode:

Show Highlights:
9:15 – Why guided transformation is replacing packaged peak experiences.
15:37 – Building dynamics groups takes a unique set of skills that requires time and mentorship to master.
24:18 – Yoga Health Coaching isn't just for yoga teachers. The business model can be applied to anyone in the wellness industry.
Favorite Quotes:
"For a group to be dynamic, people have to have skin in the game." — Cate Stillman
"A dynamic group isn't dynamic unless all members are involved." — Cate Stillman
"When they don't have skin in the game, and they're not invested, they don't have to show up. When they don't show up, they don't get the goods that you have. And so basically then, you don't get to provide the full service to them because they don't show up to receive it." — Grace Edison
Guest BIO: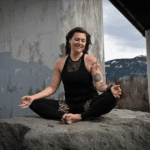 Grace Edison lives in British Columbia, Canada. She's a mom of twin 8 year olds, a Yoga teacher, studio owner, and Yoga Health Coach — and she also works for Cate Stillman in Admissions at Yogahealer! More than anything, she loves to make people laugh and has a not-so-secret dream of doing stand-up comedy. Grace has a strong passion for empowering others to take their health and wellness into their own hands. She loves building authentic relationships, making people laugh, and creating supportive communities. After a long-standing relationship with severe depression, Grace has found deep relief through the habits of Ayurveda — and much credit is due to Cate and her Body Thrive program. After taking Body Thrive several times and jumping into Yoga Health Coaching, Grace came aboard the Yogahealer team.

Cate Stillman founded Yogahealer.com in 2001 to guide Yoga people into Ayurveda and Ayurveda people into yoga. Built on the value of both personal and planetary thrive and a deep connect to one's ecosystem, community and body, Yogahealer grew into a team, 2 podcasts a week, regular blogging, an arsenal of courses to guide people into their potential, an a professional community + certification program Yoga Health Coaching. Cate wrote and self-published Body Thrive: Uplevel Your Body and Your Life with 10 Habits from Ayurveda and Yoga, an Amazon #1 Bestseller in Ayurveda, which helps people who dig yoga take a giant leap forward in their wellness trajectory with Ayurveda.