Coach of the Month: Kattie Maffeo

In this "Coach of the Month" interview, Amanda Rae talks with Kattie Maffeo, Yoga Health Coach of the Month, to discuss her path, her practice, her goals, and her successes with Yoga Health Coaching. Kattie and Amanda chat about how experiencing depression and anxiety in Kattie's 20's led her to meditation and yoga. Kattie is currently teaching what she loves — Yoga and Ayurveda — and through Yoga Health Coaching she has been able to leverage her time and experience a free yet grounded lifestyle, splitting her time between Florida and Maine. Kattie has now found a wonderful community of people to immerse herself in who help her to uplevel herself and her wellness career.
What you'll get out of tuning in:
Why you shouldn't be afraid to make mistakes
How to embrace Kaizen as a go-to coaching skill
How YHC can bring you into better integrity
Kattie's best advice for new or prospective yoga health coaches
Links:

Show Highlights:
2:15- In her 20's Kattie experienced issues with depression and anxiety. She was on prescribed medication, but was also self-medicating with alcohol. Kattie talks to us about how her journey with yoga and Ayurveda led to her regaining her health.
5:11- Kattie talks about her desire for more freedom in her life, a better self care routine and more integrity with herself and her time. She explains how Yoga Health Coaching has helped her to find this.
14:58- Kattie speaks in detail about the YHC course and how it has affected her life. Her habits and patterning have become more dialed in, she has purged old emotions, and has grown into a different person than she was in the past.
30:16- Would Kattie tell someone else considering the YHC course to make the investment? Heck yes! If you sign up for YHC, you are not only making the investment in yourself but in your career, and so much more. The YHC course is life- changing. Join us and find out for yourself!
Favorite Quotes:
"I have a little more control with how I spend my time, which I think has been one of the biggest changes and shifts in my life in the past year (with YHC)." – Katie Maffeo
"I really enjoy doing what I am doing. I love the teachings of Dinacharya. I think that the more we live in rhythm and in tune with nature the more healing can occur in our lives". – Kattie Maffeo
Guest BIO: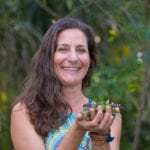 Kattie Maffeo is a health crusader and enthusiast who shares her love for Ayurveda and Yoga with her community. Kattie discovered Yoga and Ayurveda over a decade ago when she was going through a challenging time in her life; she found the practice healing and transformational. She decided to deepen her studies and completed a 200-hour Yoga Teacher Training in her hometown. This brought her to the discovery of Ayurveda and from here everything fell into place. Wanting to expand her impact and have more flexibility with how she spent her time, Kattie enrolled in Yoga Health Coaching.
Kattie is a Yoga Health Coach, Ayurvedic Practitioner, Yoga Teacher (E-RYT 200 RYT 500), and Yoga Therapist.
Connect with Kattie here or join her community on Facebook and Instagram.

Amanda Rae is a student and practitioner of life, which she has an interest of thriving in versus surviving in. She began practicing yoga 18 years ago and immediately noticed the effects it had on her relationships, mind, body and mood. Amanda is a 200RYT and has traveled to India, Costa Rica, and Greece studying Ayurveda. Amanda joined the Yogahealer team as it feels like a true Dharmic alignment. She is excited to connect with and help people looking for the tools to thrive in their lives and their wellness career through the Yogahealer worldwide community. Connect with Amanda here or join our community on our Facebook group Yoga Health Coaching Wellness Pro Challenge.