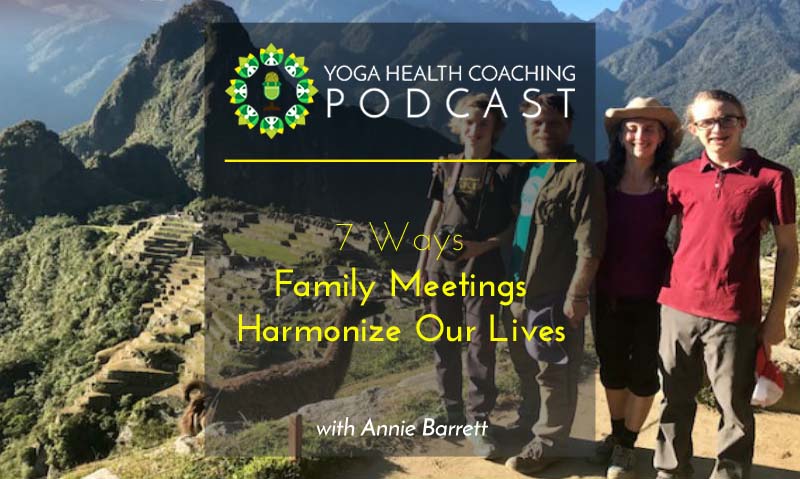 12 Jul

7 Ways Family Meetings Harmonize Our Lives

In this episode of the Yoga Health Coaching Podcast, Yoga Health Coach Annie Barrett raps about how her family is evolving their health and connectivity with weekly family meetings. Annie talks about how she got her husband and two teens on board with weekly meetings, which was not an easy feat, and how it is improving their connectivity, communication, habits and health.

This episode is for you if you're all about personal and planetary evolution, if you care about evolving not only your own habits, but also the habits of your family. Even if you're NOT a parent, you'll get a lot out of this podcast because it's really about how you collectively evolve with your core peeps.
What you'll get out of tuning in
How to get your core peeps on board with doing family meetings (i.e., WIIFM- WHAT'S IN IT FOR ME?)
How to create a structure and agenda for an effective family meeting
How the family meeting supports personal and planetary evolution
Links
Show Highlights
11:25 – WIIFM – What's in it for me? How to create buy-in for getting family members on board with the family meeting.
15:40 – Annie lists the seven ways her family meetings make family life more harmonious.
17:45 – Create a shared set of family agreements in order to ensure that your family meeting structure is sustainable.
Favorite Quotes
"If there is one thing I have learned about evolution on the yoga path, it is that people evolve faster in a group than on their own.." – Annie Barrett
"WIIFM looks a little different for each person. For teens, good food at the meeting creates buy-in. Also, you really have to hone in: what does the teen or the kid need or want? What does your seven year old need or want? What's going to satisfy that person to get them to buy into doing a weekly meeting?" – Annie Barrett
"Here are seven ways in which our family meeting makes our family life more harmonious:

We agree to a set of collective values/agreements to live by (see below) and we repeat and practice them.
We take time to focus on what's going well.
We check in on each other's projects and pursuits and cheer each other on!
We have a structure for handling conflict so when conflict comes up, we can process it appropriately and with care rather than acting out in a reactive or damaging way.
We learn and practice compassion. The family meeting forces you to sit and see things from another's point of view, and this is crucial for harmonious relationships.
We check in about busy schedule so that the weeks run more smoothly. We prioritize having fun together.
We check in about menus and food and collectively take part in family nourishment." – Annie Barrett

"The meeting is a weekly place to review values, practice compassion, work on interpersonal communication skills, and learn to keep a schedule." – Annie Barrett
"Yoga is about connection and evolution. May your family meetings foster both!" – Annie Barrett