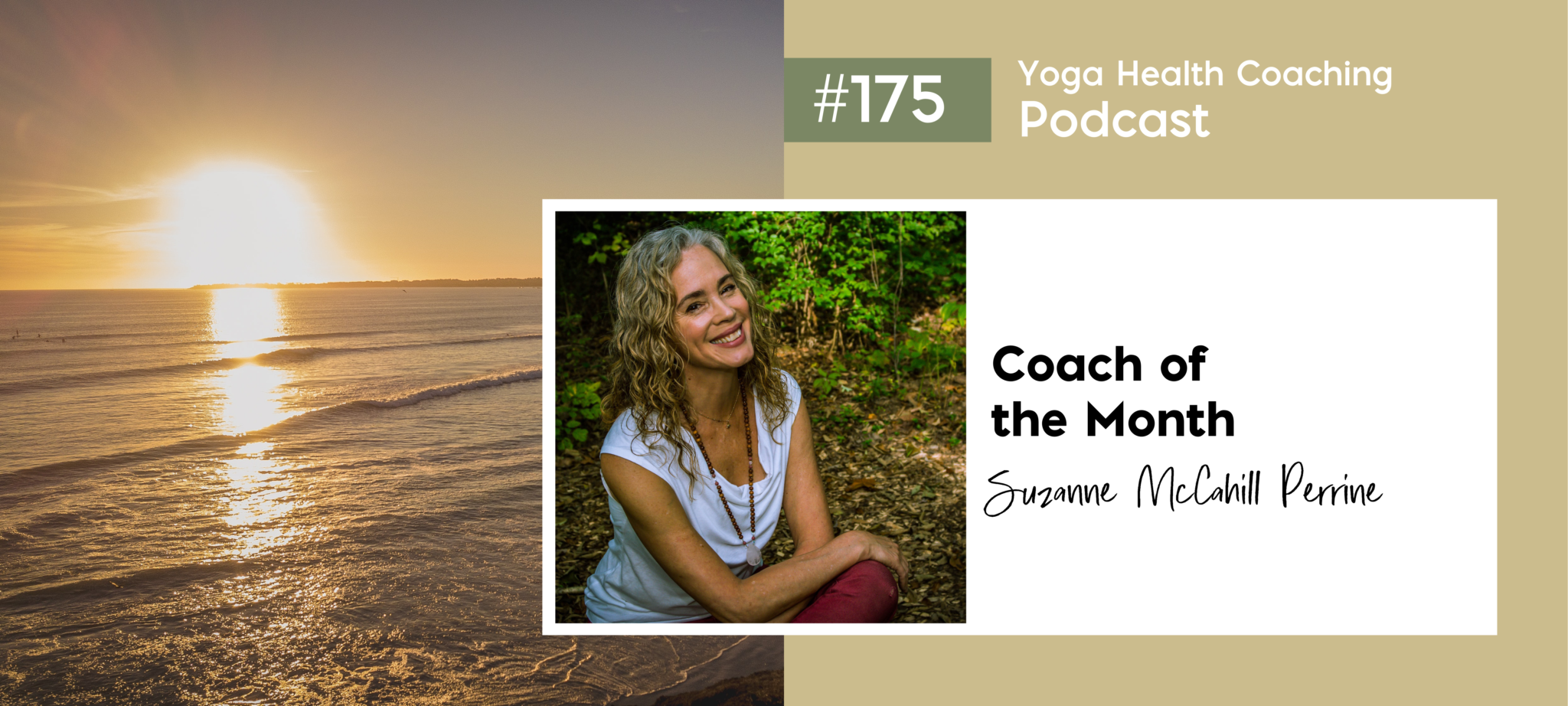 Coach of the Month: Suzanne McCahill Perrine

In this episode, Anna speaks with Suzanne about what methods have worked for her on her road to success as a Yoga Health Coach.

Suzanne shares what has worked for her and what has not worked for her along the way. You may also get inspiration on how to play around with the model to find what best suits you in creating the most epic ride for your members.
What you'll get out of tuning in
How to recognize when you begin to embody the practices
Understanding that following the business model works
Inspiration and ideas to customize your program
Links Mentioned in Episode:
Highlights:
The benefits of free talks – getting enrollments and people on the emailing list 13:37
It wasn't until LA and Body Thrive that you put the theory into practice… even the yama and niyamas became real 3:03
The business model really is a simple structure 13:05
Timestamps:
"The Living Ayurveda course blew my mind" 2:20
"If I can get them into a 1:1 talk we're pretty good to go" 14:00
"If you're thinking about it and there's a deep calling follow it…you don't know how capable you are until you step into" 16:32
"Income is so related to impact, two sides of one coin" 21:52
"Self care is non-negotiable" 24:07
Guest Bio:
Suzanne McCahill Perrine is the founder/director of The Center, Harrisonburg's first dedicated yoga and Pilates studio. Suzanne, E-RYT 500, YACEP, Certified Health Coach, and teacher trainer began teaching Yoga in 2005. Inspired to connect to others in her community and spread the joy and healing potential of yoga, she opened The Center Yoga studio. After years of study in the Anusara tradition with teachers, Desiree Rumbaugh, Christina Sell, Elena Browner, Amy Ippoliti, Moses Brown, Bita Jenkins, Suzie Hurley, John Friend, and Douglas Brooks, she eventually started teaching others to teach, starting the Center School of Yoga.
Suzanne encourages her students to have fun, relax, and enjoy the splendid journey that yoga offers them both on their mats and in their lives. More recently, Suzanne has studied under Cate Stillman offering yoga & Ayurveda health coaching as a way to collaborate with clients who wish to feel more connected to life, honor their true nature, and reclaim their health. She continues to find more joy in her life since discovering Yoga, meditation, and Ayurveda and sharing it with others

Cate Stillman founded Yogahealer.com in 2001 to guide Yoga people into Ayurveda and Ayurveda people into yoga. Built on the value of both personal and planetary thrive and a deep connect to one's ecosystem, community and body, Yogahealer grew into a team, 2 podcasts a week, regular blogging, an arsenal of courses to guide people into their potential, an a professional community + certification program Yoga Health Coaching. Cate wrote and self-published Body Thrive: Uplevel Your Body and Your Life with 10 Habits from Ayurveda and Yoga, an Amazon #1 Bestseller in Ayurveda, which helps people who dig yoga take a giant leap forward in their wellness trajectory with Ayurveda.