Andrea Catherine's Fearless Self-Love: The Art of a Great Podcast

In this episode, Cate gives Andrea Bachman, one of the Top 3 YHC Bloggers, a platform to gain insight into growing her wellness business and ask Cate some of her most pressing questions:
How can I build my podcast as an effective & sustainable wide mouth opening to my acculturation funnel?
What are some specific ways I can maximize my skills as a writer, speaker and podcaster to reach more potential clients?
What are the most effective ways for retaining new list members and potential clients?
Check out how Andrea's questions are answered, and how you too can gain the practical tools and insight Cate provides for creating your own podcast and growing your community!
What you'll get out of tuning in:
How to leverage your strengths to make your podcast a success
What questions to ask yourself before you create your podcast
How to get rid of market competition by creating in your zone of genius
Links Mentioned in the Episode:
 
Show Highlights:
37:10 – There are many different archetypes for a podcast, all of which have their own unique strengths. Some of the most common include Artist, Teacher, Educator, Conversationalist, Newscaster, and Storyteller. Leverage the skills you already have in order to make your podcast a success.
42:20 – When launching and developing a podcast, you don't need to stick to a set amount of publications at first. If it is more involved, more artistic, you may be able to publish less because your it has more staying power than that of a newscaster.
45:00 – If you are already performing in your daily life, whether that's through song, poetry, theatre, interviews, or professional talks, record it! You can use that as one of your publications, and get two uses out of one production.
46:00 – Ask yourself who your podcast is for, what you want to create for your audience, and how it will serve them, and develop from there.
50:00 – One of the challenges with podcasts is getting people into the conversation with you. You can incentivize people to reach out to you in different ways, like giving them a shout out on the show or providing forums for questions or feedback.
Favorite Quotes:
"What doesn't feel like work? Use that as the metric." – Cate Stillman
"Who's the listener? What do I want to create for them? How will this serve them?" – Cate Stillman
"If you reshape marketing into nurturance… thinking about it in that way makes it more accessible and pushes what's important." – Andrea Bachman
"When you're in your zone of genius, there's no market competition… you're creating your own market." – Cate Stillman
Guest BIO: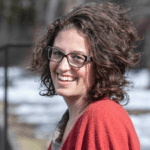 Andrea Catherine's passion is cultivating communities of fearless self-love and self-care. As a Yoga Health Coach, her ever-evolving work is sparked and sustained by people eager to transform their lives to flourish as grounded, joyful, and at ease, to ultimately be at home in their health. Listen to Andrea Catherine's podcast or check out her website.
Follow along as Andrea and her pup, Porter, get lost on Montana roads and find themselves swimming in reservoirs, hearing live music, and smiling at the mountains. Follow her adventures on Instagram, Facebook and Twitter.

Cate Stillman founded Yogahealer.com in 2001 to guide Yoga people into Ayurveda and Ayurveda people into yoga. Built on the value of both personal and planetary thrive and a deep connect to one's ecosystem, community and body, Yogahealer grew into a team, 2 podcasts a week, regular blogging, an arsenal of courses to guide people into their potential, an a professional community + certification program Yoga Health Coaching. Cate wrote and self-published Body Thrive: Uplevel Your Body and Your Life with 10 Habits from Ayurveda and Yoga, an Amazon #1 Bestseller in Ayurveda, which helps people who dig yoga take a giant leap forward in their wellness trajectory with Ayurveda.