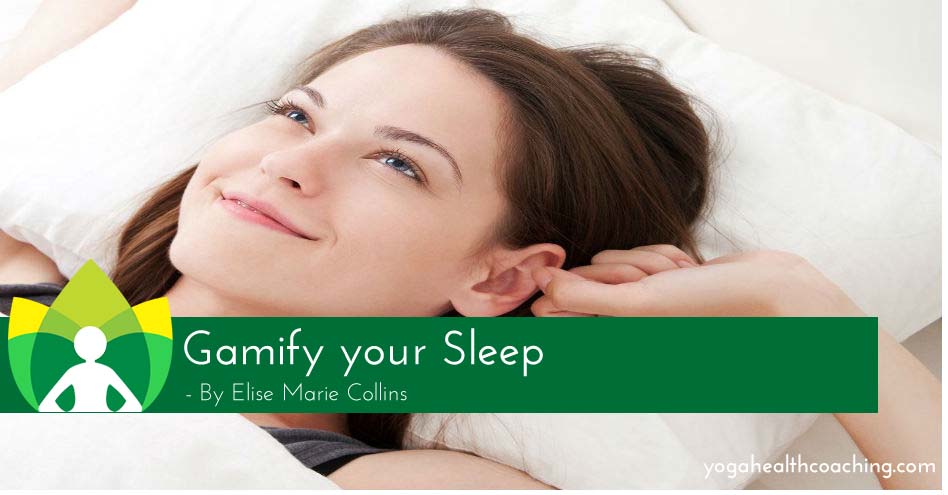 Gamify Your Sleep

My yoga students struggle with sleep. I hear them exclaim "I had to stay up late to work," or "I woke up in the middle of the night stressed about my job."  Wouldn't it be better to get a good night sleep and be

more productive the next day?

Tired and grumpy employees make mistakes.

Calm and focused people get the job done.

Research validates the fact that better sleep equals more productivity. A 2015 Harvard study affirmed the critical role adequate sleep plays in workplace productivity. Insomnia has a significant impact on workplace costs. The study suggests companies could increase their bottom line with insomnia management programs for employees.
Make Money While You Sleep

Aetna Health, an American managed health care company rewards employees who sleep.  Workers self report hours slept or use a fitbit device to record hours of snoozing. Aetna assumes positive intent in reporting and pays out $25 for every 20 nights of 7 or more hours of sleep logged with a cap of $300 per year.
Aetna's CEO Mark Bertolini believes paying employees to sleep is good for business. "If people are checked out at a meeting, why are they there, number one, and if we are talking about important things, you can get things done quicker if people are present and prepared. You can't be prepared if you are half asleep."
Named one of the top '100 Most Influential People in Healthcare,' Bertolini pioneered company programs that offer yoga and mindfulness to Aetna employees. This maverick CEO believes that good business fundamentals mean investing in his own 'people' by helping them to lead healthier and more productive lives.
As for making money while your sleep, paying workers to sleep more than 7 hours per night is a baby step towards better sleep for workers at Aetna. Tracking one's sleeping and waking hours creates accountability. Adding financial reward for time slept gamifies the experience. Most people want to win and earn points, dollars, enter contests even when the payoff isn't astronomically high. Aetna participants in the sleep program track sleep, get more sleep and then undoubtedly receive the larger reward of feeling fantastic and well rested. Habit change can be that simple, TRIGGER– track hours slept at bedtime or at wake up time, HABIT, sleep more, REWARD, feel good, make some extra cash. Aetna employees start out trying to sleep to earn extra money and join others who are doing the same. The hidden benefits of the new habit will be feeling refreshed, less anxious,  less craving of unhealthy foods, less brain fog and the list goes on.
And What about Group Support?
Some employees will need support in getting more sleep. At different stages of life and for different reasons many people need support or professional help getting better sleep. A death in the family,  a birth or some really stressful situations can make even the deepest sleepers want to reach for Ambien. Before turning to a pill, a support professional or group might be a better alternative.


Center for Disease Control and Prevention, one third of all Americans get less than seven hours of sleep per night. Some people will need more help than others in bringing their numbers up.
Sleep Improves the Bottom Line

Aetna's commitment to give workers a bonus for sleep is a big step in the right direction. As one of Forbes top 50 grossing companies in the United Step, Aetna's action sets an example. The data indicates difficult sleep has a huge cost for all businesses. A study published November 30, 2016 found that the United States sustains the largest economic losses due to insufficient sleep, up to $411 billion per year. Corporations look to the bottom line to make big decisions, The data shows the high price businesses pay when employees are exhausted. Most companies haven't done much to change the pervasive and scientifically false idea that rest is over rated.
Author and sleep advocate Ariana Huffington describes the impact of Aetna's sleep program:
"It really changes the cultural delusion, that most businesses have be en operating under, which has been that the more exhausted and burnt out the employees are, the more productive they are. And all the data now shows that this is completely false, that in fact, we lose 11 days in productivity because of how exhausted employees are and how disengaged from the job(employees are.)
Reversing a corporate culture that esteems wearing exhaustion like a badge of honor may take some time. in the meantime Aetna Health encourages employees to make money while they sleep.
Gamify Your Own Sleep Revolution

In Ayurveda, getting 8 or more hours of sleep has always been key to health and productivity. Western science is finally backing up the human need for sleep and how it factors into workplace productivity. Incentivizing employees to get a good night sleep is the first step in a corporate sleep revolution.
Whether you are self employed or work for a company, you don't need to wait for someone else to reward your sleep hours. Try hooking up with a group or an accountability buddy. Track your hours, decide on a reward. For example, sleep 8 or more hours a day for 20 days then reward yourself with an hour and half massage. Do a family sleep challenge. Sleep 8 hours or more for six days in a row. Every family member who completes the challenge gets Sunday breakfast in bed. (If everyone wins go out for breakfast.) Make up your own fun way to gamify your sleep.
Track your hours, get your reward and feel the difference. If you don't quite make the challenge, don't feel defeated, you may need to enlist the help of a Yoga Health Coach or professional sleep consultant.