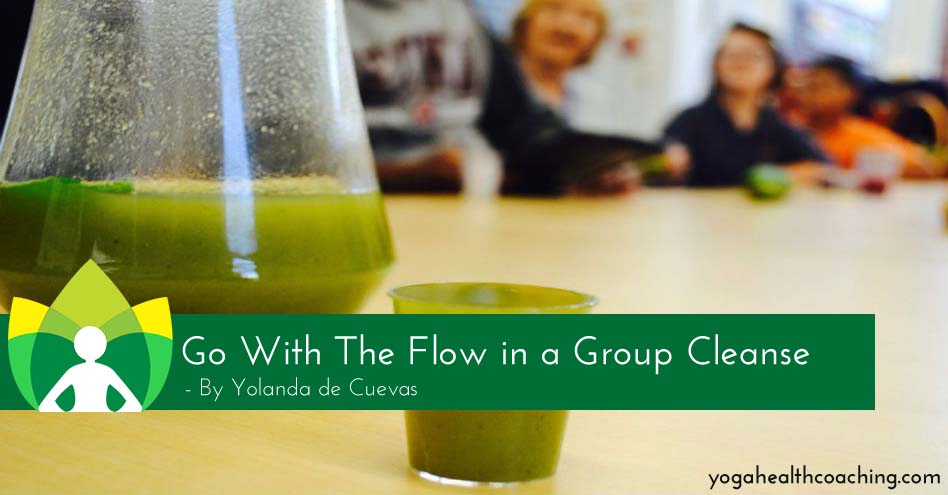 Go With The Flow in a Group Cleanse

The idea of a cleanse, detox or diet is not a new one. I have tried many different types of diets and cleanses. For years I spent time being obsessed with numbers in Weight Watchers, then I followed the Atkins diet greedily to the letter. After that I did some pretty strict liver cleanses – all in an attempt to follow my (mostly ignored) inner guidance to feel better in my body. It's an attractive idea to shift away from habitual patterns towards a healthier version of yourself. It took me years to come to where I am now-a leader of fun and effective group cleanses.

When I started to practice yoga, things changed as I began to take a different approach to my regular diet. My ego declared that I ate well enough throughout the year. My ego told me I didn't need to buy into this idea of detoxing anymore. CLEANSE, DETOX-the words were loaded for me at that time. I had memories of expensive, heavily supplemented, socially isolating experiences that in the end, yielded, little long term benefit. I was done with DETOX!
Follow the Laws of Nature

All that changed again when I began to study Ayurveda. The concept of human beings FOLLOWING THE LAWS OF NATURE was planted as a seed in my fertile and inquiring mind. Now I began to observe nature more closely, observe myself and observe myself –in nature. I began to see the world through a different lens. I began to explore Nature (with a capital N) as a dynamic energy that moves in cycles and rhythms.
Cleanse Between Seasons
I also learned that the transitions between the seasons were significant. At these seasonal junctures, Nature takes a turn and the Vata dosha increases just as the season changes.  Vata dosha consists of the elements of ether and air, the elements from which all else emerges, it's these elements that create possibility.  At each 'change' of season, the Vata energy increases the FIELD OF POSSIBILITY. At this time we can expand beyond the confines of the understood and documented parts of our lives. During the change of season, we can tap into greater potential than other times during the year. For this reason cleansing between the seasons is the best time to cleanse.
The Change of Season Happens Inside Me
I always loved the image of ice peaks on mountain tops melting in late winter.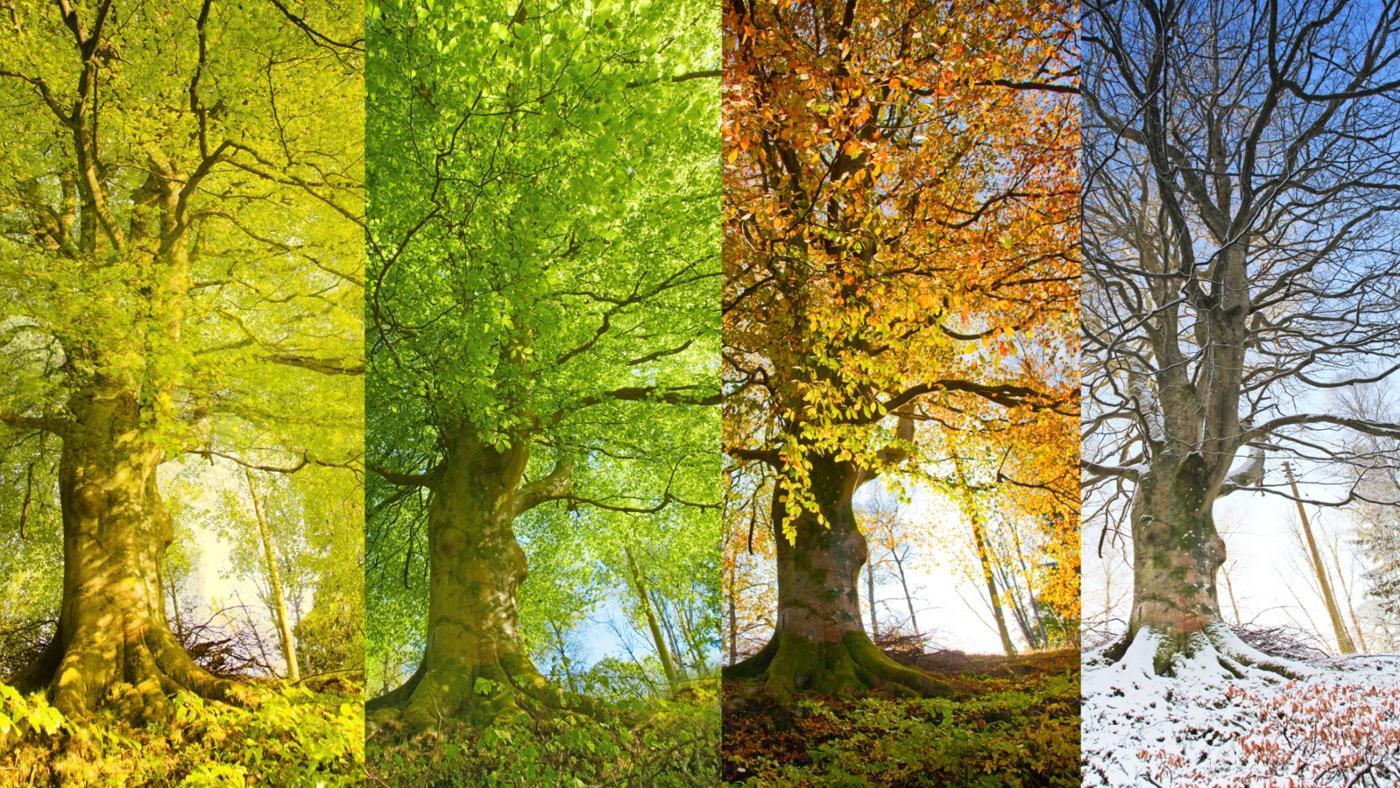 As the snow melts, it sends flushes of cleansing water into rivers and streams that then join the oceans in spring. I learned through Ayurveda that this global/seasonal cycle also took place INSIDE ME. This idea  expanded my horizons further. The concept of supporting the body through the seasonal transition began to make so much sense to me. Just like the mountain tops, I too would have water moving downstream. I realized that I had choices in my seasonal flow…
I could assist 'the flow' to have an easeful journey to the oceans.
I could mindlessly ignore 'the flow' and experience the consequences.
Or I could actively disrupt or go against 'the flow' with poor life choices.
This was an important realization to me. I discovered that how I acted during these seasonal transitions was entirely within my own control. I felt empowered.
I Found a New Way to Cleanse with Ayurveda
I began to experience a different kind of cleansing as a part of my Ayurvedic studies. I tried gentle monthly cleanses. Then every 3 months, I tried seasonal cleanse routines with other Ayurveda students. As students, we would experiment  – eating only warm foods only for a period of time, contrasting that with a diet that included some processed foods, performing regular purges to eliminate toxins from the bowel. Sometimes we would eat no meat for a while. I enjoyed sharing these experiences with my fellow Ayurveda classmates- noticing common responses to the effects of certain diet and lifestyle choices on our bodies, minds and relationships.
As my studies progressed, I learned about an in depth cleansing routine described as Panchakarma. This form of Ayurvedic detox was a series of treatments carried out by trained practitioners in a clinical setting. The choice of treatments for Panchakarma and length of time of the cleanse would be part of a specific prescription for the individual. The aim of Panchakarma was to gently mobilize and release toxins from the body and mind. As a student, I got to experience Panchakarma along with my classmates. I enjoyed the passive nature of  Panchakarma – I just lay there while the cleansing happened to me, I wasn't an active participant and I didn't need to do anything.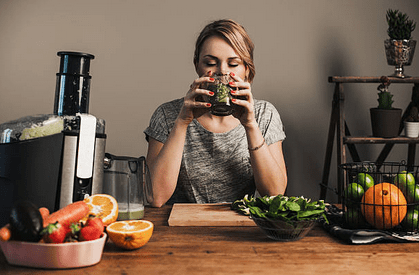 When my studies ended, away from the support of my fellow students, I struggled to maintain enthusiasm and regularity with my simple seasonal routines and home cleanses. My ego didn't want to bother with simple seasonal routines. My ego once again decreed that annual Panchakarma in a clinic environment was enough cleansing – I didn't need to bother with those seasonal at home cleanses which would be boring and isolating. So for a few years I relied on annual Panchakarma treatments to take care of detoxing for me.
Then I began Yoga Health Coaching. I started to learn about a new model for helping people to experience positive change in their well being. In this model, I would be working with groups instead of individuals. I learned how much more successful the group cleanse experience could be for the client and coach alike.  Armed with this new information, I invited some of my clients to participate in a group cleanse experience. It was fun, it was supportive, it was motivating, we kept each other accountable, we made each other laugh, we shared our successes. We expanded each other's ideas of what a cleanse could look like.
Get Rid of the Rules and Get with a Group Cleanse
I reflected on how isolated I felt following strict detox protocols. I remembered how much more enjoyable and effective leading a group cleanse experience was for me. Now the final piece of the puzzle was in place – I didn't have to follow strict rules, I didn't have to deprive myself and I didn't have to go it alone or hand over my responsibility for cleanses to a Panchakarma technician. Instead I could come together with other people committed to taking a regular review of their well being and dedicating some time to redressing the balance in their lives. Now I had stimulation and encouragement. Assigning time for a regular cleanse in my annual calendar became as routine as adding the school holiday dates.
As the years pass I see commitment to regular cleansing yielding 3 great benefits:
EFFICIENCY from repeated practice, in both preparation and execution of a cleanse. We spend less time and effort in food preparation and more on doing the things that will support us on deeper levels. Time in nature, constructive movement, less time on electronic devices and plenty of contemplation.
EXPLORATION with the boundaries of what a cleanse can look like. A big factor of my March 2017 cleanse was saying "No" to any demands on my time. I enjoyed some afternoon naps and was in bed by 9pm for 2 weeks. Supplements were not a part of my cleanse this time.
PLAN for future cleanses. Cleanses create momentum and forward thinking- In September 2017- I may include some 'space' cleansing as we prepare to move house. I can now plan in advance what my future cleanses will look like – based on life events. Or I can plan  to experiment with something new that I may have heard of, such as Intermittent Fasting or Coffee Enemas.
I encourage you to take a leap of faith and join a group cleanse. Here are 3 tips for finding one that will suit you: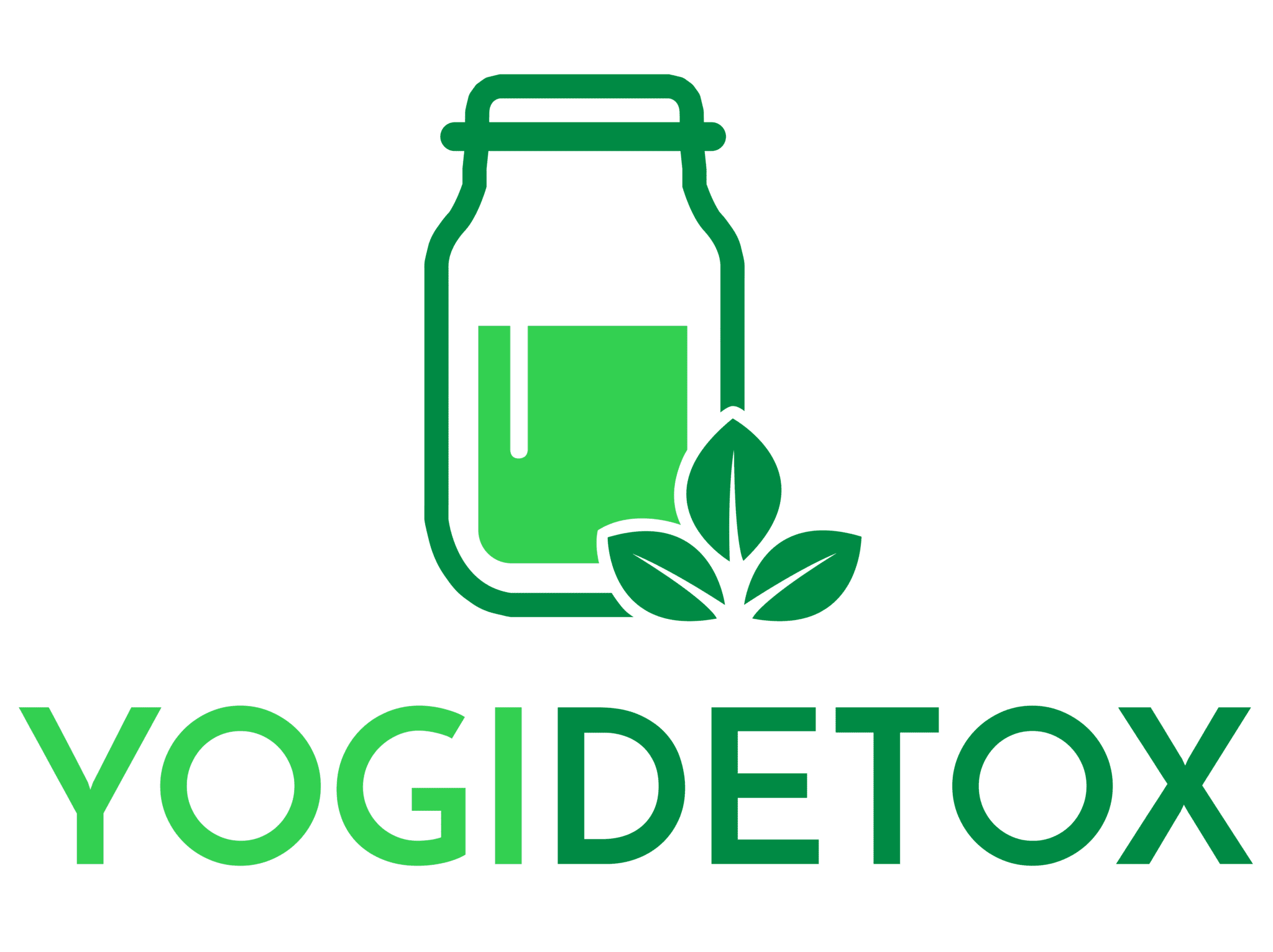 Be VERY clear about WHY YOU WANT TO CLEANSE – If your main aim is to lose weight, then you will want to choose a cleanse that promises to deliver that result. Think about your 'why' as this will also carry you through when you feel uninspired.
FIND YOUR GROUP- Go to your local gym, health food shop or yoga studio and ASK if anyone offers group cleanses in your area. If no one does, find an online cleansing group that you resonate with. 
BOOK YOUR CLEANSE at least 3 months in advance. Join an online or in person detox program early, so you can have it on the horizon. The intention to cleanse can influence your health decisions before the detoxing begins. And with more advance planning, you can clear your calendar with greater ease.
And finally, BE OPEN to your own inner guidance during the cleanse. Ease into the SPACE created by reducing decisions around food and meals to explore where your SOUL wants to GUIDE you next in your life. With regularity, these transitions become a return to neutral, a time in our busy lives to evaluate where we have come from, where we want to go and how best to get there.
How have cleanses impacted your life? Are you a regular cleanser? What types of things does your cleanse include? Please post your comments below, I would love to hear from you.