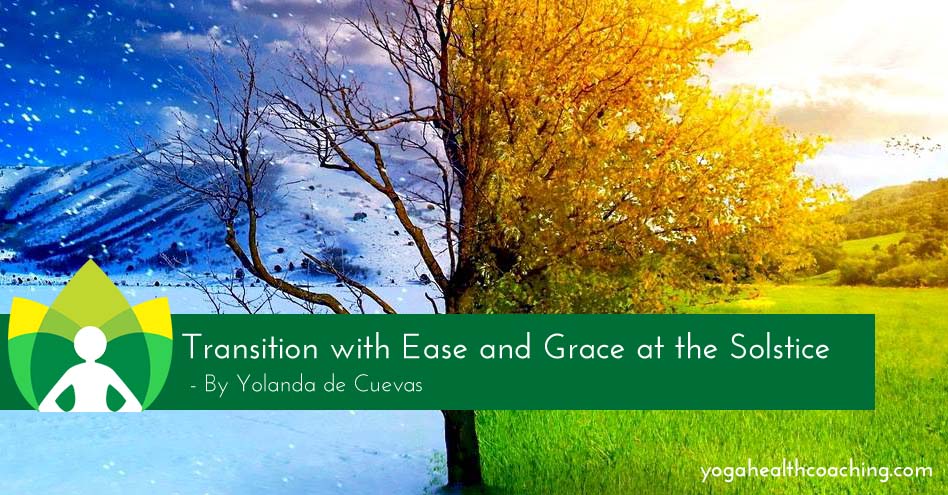 Transition with Ease and Grace at the Solstice

Winter solstice is the shortest day of the year, there is the least amount of daylight.  I live in Western Australia in the Southern Hemisphere and winter solstice occurs here around June 20-22. From early June a distant foghorn starts to sound in my mind. Initially I don't listen to it, I only hear the pressing daily demands of my life. But I have a mind trained by Ayurveda, so the foghorn of seasonal change gradually becomes louder and louder. There's also a smell of a transition time in the air. Like the first salty wafts of air as the wind starts to come in from the sea. That scent signals opportunity is in the air and in the season. I spend time around the solstice connecting more deeply to nature.

Editors note: If you live in the Southern Hemisphere, winter solstice is June 21. If you live in the Northern Hemisphere, it's the same day for summer solstice. Use this handy world clock here to find the exact time of the solstice where you live.
Daily Routines Fuel Seasonal Transitions
I complete my days with a familiar walk around my house, filling thermos flasks from the kettle, transferring them to the spare room, laying out tomorrow's clothing for me and my children, ensuring gloves and torches(flashlights) are ready for the cool dark of the next morning before I head to bed prepared. I feel excited at the delicious prospect of going to sleep and then waking up to experience the birth of the next new day.
My days didn't always end this way…
When my children were very young, I was less organized than I am now. I spent my evenings restoring order from the day's chaos. My house was a mess due to a vigorous day's playing, eating and exploring in the house. Only after the household chores were done, I felt I could relax. I did no preparation for "tomorrow."  There was no space in the evening routine for preparing myself for the following morning. I focused solely on tidying up after everyone else and that was all I could manage.
Greet the Dawn with Yoga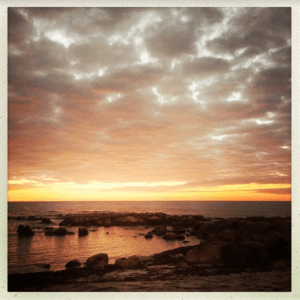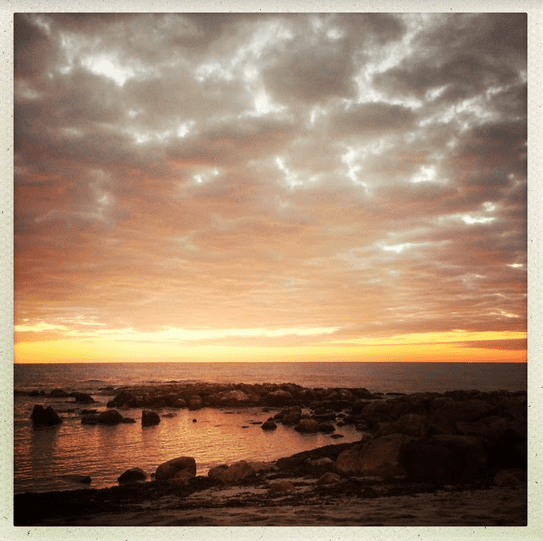 Things began to change dramatically when I started to practice yoga regularly. My love for yoga was immediate and all-consuming. To dedicate time to this new lover of mine, yoga, without upsetting the family harmony, was truly a balancing act. I went to class very early in the morning. I used military precision to start my day: the alarm (muffled under my pillow) would sound, I would silently peel back the bedcovers and rise, slowly tiptoeing past my daughter's bedroom, try not to wake the dog on the way to the guest bathroom, use the toilet, dress and brush my teeth – all as quietly as possible and finally, breathing a sigh of relief not to have heard any "Mommy" shout outs, slowly slide the back door open to slip out of the house, hop on my bike and go to yoga.
After a few years I developed strong habits to support my early morning yoga practice. I consistently went to bed early enough to support my wakeup time and no longer needed an alarm clock. My children were older and slept a little more deeply in the morning which helped too. Although my family life could accommodate me practicing later in the day, I had become entranced with synchronising the start of my day with the dawn.
Morning Yoga Helped me Get in Touch with Nature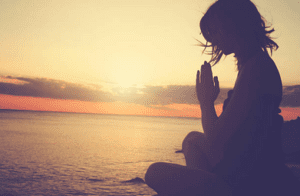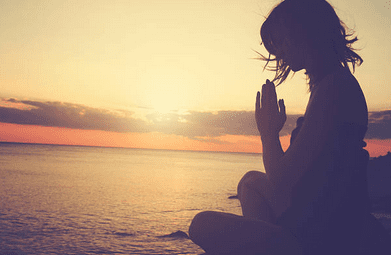 Now on days when I don't go to the yoga studio, I still wake early and enjoy short walks with my aging dog or longer bike rides to the beach to witness the dawn. My morning walks and rides to yoga and the beach have put me in touch with nature. These mornings have become precious times; feeling the first rays of daylight on my skin is pretty miraculous to me. I notice the differences in temperature in the mornings. I feel the sensation of the sun's heat over the course of a year. This awareness fulfills a deep need for connection to my environment. To acknowledge that my lifestyle affords me this opportunity fills me with gratitude. I notice the seasons because I get up early to greet the day. It all started with my yoga practice.
I Feel the Seasons
As we approach midwinter, I notice the sun's morning rays are soft, gentle, nourishing and nurturing – a rare treat here in Western Australia. We are right underneath the thinnest part of the ozone layer where we feel intense heat without this atmospheric protection. Many people fear the effects of sun on the skin, especially in Western Australia and avoid it the summertime.
Mantras for Winter Solstice
On winter solstice I have been contemplating the seasonal mantras Maya Tiwari includes in her book, The Path of Practice.
Early winter – gather and contain
Late winter – rest and reflect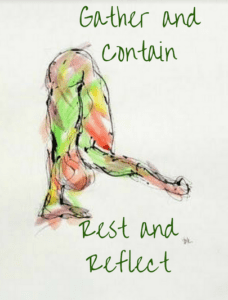 The solstice occurs at the transition between gathering/containing and resting/reflecting. From that darkest moment, the seed of light awakens to be break forth in spring. As we journey from mid winter towards spring, we have a chance to be efficient about what will grow in our lives. We want to expend our scarce winter energy on supporting the birth of the new version of ourselves.
We have an opportunity to look at what has been gathered, assess its value and determine whether to store and retain it or release it and let it go. Once these decisions have been made, we can rest, knowing we have made adequate preparations for the coming season
To manage the seasonal transitions that occur at the solstice we can tune into the Earth's experience and align our own rhythms with the cosmic rhythms. These practices will create more ease during the seasonal transition of the solstice.
My Top Three Solstice Tips
Follow these important tips during seasonal transition times. will create more ease and clarity and deepen your connection to the wider cosmic forces, providing important markers in your seasonal calendar. If you invest wisely in the opportunity these transitions present, the choices you make afterwards may be more aligned with your greater good.
Create space in your schedule to dedicate more time to your spiritual practices. Block off time in your schedule three days before or after a solstice or equinox for extra meditation, contemplation or spiritual rituals. Focus both on grounding and connecting with the Earth as well elevating awareness to the stars and cosmic energy.
Put your naked palms and the bare soles of your feet in contact with the elements. Touch the earth, touch a tree or get your hands dirty in some soil.  Face your hands and feet upwards to the sun at dawn and dusk for 10 minutes each day around the solstice.
Invoke your inner guidance. Ask it to help show you what to let go of. In my case this year it has been an old collection of blurry photos from the 1980s, a beloved member of our school community and a whole pile of books which have been outgrown by my children.
Follow these tips. I recommend you also take time to reflect and journal what you discover. Do this every year and at every solstice. After a few years of these simple practices, you will notice larger patterns and cycles in your reflections.
How do you celebrate or revere the solstice? Were you raised with a connection to the Earth to transition times and the seasons? What have you managed to let go of this season? Please scroll down on the blog and comment below. Let's support each other in a powerful solstice transition.