Growth and Patience…Uncovering the Jewel in the Lotus

Alexandra Kreis is an extraordinary example of how much you can achieve if you are willing to really give it a go. Since beginning her journey with Yogahealer, five years ago, Alex has become a Yoga Health Coach with an impressive track record. Not only is she killing it in her business, but she has also become a thought leader in her European community.
The secret to Alex's success? Diving deeper into yourself and your body. Listen to the podcast and learn how Alex has been overcoming self-sabotage and has flourished from the darkest parts within her.
What you'll get out of tuning in:
How to overcome beliefs that keep you from growing
How honesty paves the way to breakthroughs
How to propel yourself by sinking deeper
Links Mentioned in Episode:

Show Highlights:
Alex talks about the importance of an accountability partner
Alex shares her experience with social background from different countries
Alex explains how she still struggles with self-sabotage
Timestamps:
1:07 The impact of the 5 point system of Master of You
8:45 Coming forth with what you need to say
15:19 The method of circling and establishing a body conversation
20:05 Experiencing the water element and sinking to grow
Guest Bio: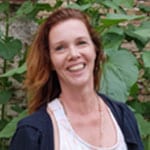 Alexandra Kreis has always been passionate about helping people to reconnect with their nature and understand they have the right to be happy and feel fulfilled. It is no coincidence that her professional career has brought her into the deeper layers of self-awareness and self-discovery, whilst assisting others on their own path.
A Yoga teacher since 2002, and an ayurvedic consultant for over a decade, in her mid forties, Alex realized that in order to provide people with tools to explore themselves, she couldn't be a Yoga teacher forever. That's when, five years ago, she started her Yogahealer journey.
Believing in empowering people to heal what lies within them, Alexandra has created an overwhelming impact. Especially in Europe, where she has steadily become a thought leader.

Cate Stillman founded Yogahealer.com in 2001 to guide Yoga people into Ayurveda and Ayurveda people into yoga. Built on the value of both personal and planetary thrive and a deep connect to one's ecosystem, community and body, Yogahealer grew into a team, 2 podcasts a week, regular blogging, an arsenal of courses to guide people into their potential, an a professional community + certification program Yoga Health Coaching. Cate wrote and self-published Body Thrive: Uplevel Your Body and Your Life with 10 Habits from Ayurveda and Yoga, an Amazon #1 Bestseller in Ayurveda, which helps people who dig yoga take a giant leap forward in their wellness trajectory with Ayurveda.