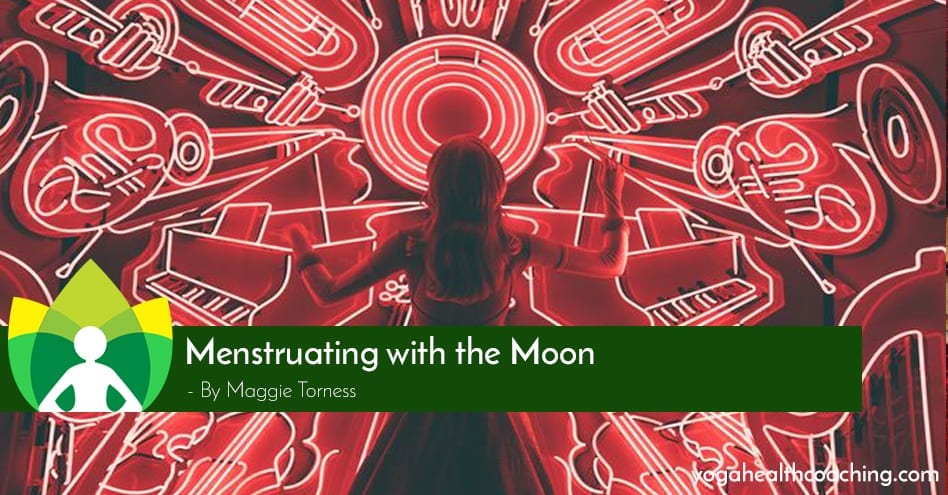 Menstruating with the Moon

There is one thing that is evident in society today: shakti, the female energy, is on the rise.  And this does not only apply to those who identify physically as female; we all have access to the amazing feminine power.  Yet, those of us who inhabit a female body might feel the effects of this change more directly – think: more women than ever before are occupying positions of power around the globe and women are finally stepping out and being heard as they courageously state, "Me Too." In lieu of the upcoming Women's Weekend of Marches that will take place in locations all around the world on January 20/21 (click here for more info), this is an ode to the power of the feminine.

Let's face it: one critical aspect that defines the female body is the menstrual cycle.  And I don't know about you, but I have not been able to talk about mine publically, well, pretty much, ever.  Not only that, but I grew up feeling like I had to hide this blatantly obvious naturally-occurring process.  I felt ashamed of it.  It was a common theme for the women to dread their period, so when mine was late I naively rejoiced.  When it finally came, I did not think much of it and embarrassingly acted like it was no big deal, thinking my life was no different.  But it was and I unnecessarily suffered because I did not know how to listen to what my body was trying to tell me. That time in my life was filled with excessive running, fragile bones, chronic fatigue, injuries, eating disorders, and digestive disturbances.  And it has been a long-winding journey, but I have finally started to recover bits and pieces of ancient earth wisdom, particularly that which pertains to the female menstrual cycle.  And I can never again underestimate its importance and potency in health, not only of the body, but of culture and the world as a whole.  

First off, a balanced menses is crucial for a female's physical, mental and emotional health. As any yogi knows, with alignment comes increased power and ease. Aligning with one's cycle to better take care of the body not only allows for ease in the system but also increased power as a woman. This happens because as we align with our own system, we can align better with the Earth and her rhythms, which is where our unlimited energy is stored.  With every moon cycle, I feel clearer alignment of my body to natural forces of the world, and with it, increased power and ease.  When we as women are more easeful and powerful in our person, we can more easefully regain our natural and equal power of influence in our community. Since women are natural bridges between the natural world and her people, with more women taking action and affecting change in their communities and politics, I see more effective implementation of environmental policies coming into those arenas as well. Because of course everyone cares about the earth but as women, we feel her. Could a universal unveiling of the menstrual cycle help us to better access the feminine power and, in so doing, become a key stone in creating healthier and stronger communities in our rapidly transforming global society?
History or Herstory
For much of human history, many groups of people all around the world have organized themselves around the moon. Women who live mainly in the natural world – exposed to moonlight and away from artificial light – naturally sync up with the moon and, in so doing, with each other.  This, as you could imagine, has a major effect on the rhythms of the community as a whole. 
Throughout history, women's moon centered rituals have woven themselves through countless cultures around the globe.  During the new moon, women would separate themselves from the rest of their tribe and go off to bleed together.  It was a sacred time.  A time to deeply detoxify and rest.  A time to go into the deep dark depths of their bodies and psyches and decide what to create from their nothingness next – whether it be an idea, project, or child.  This was a time to reconnect with the Earth and nourish the soul.
Inevitably, when women menstruate during the new moon, they tend to ovulate on the full moon.  Ever wonder how the term "lunatic" is connected with the moon? Or why some people – men and women – have very intense emotions during the full moon? This is because, if you have ever been around an ovulating woman, she has a certain energy that is undeniably powerful.  She can make others go crazy with her subtle influential powers.  And she, as well, feels this indistinguishable power coursing through her veins.  Traditionally, the full moon was always the time to be social and merry and celebrate life.
Menstruating with the Moon
When women are not in alignment with their menstrual cycles, they suffer from a major loss of power.  Being in alignment means bleeding with the new moon and ovulating on the full moon.  Being in alignment means knowing where your body is in its cycle, and honoring and aligning with the energy level inherent there.  From this position of alignment, a woman's power and ease are enhanced. But what happens when one is not aligned with their system or the Earth's?  PMS, painful periods, and extreme fatigue.  Amenorrhea, fibroids, and endometriosis.  Decreased libido, lack of creativity, and general depression.  Shall I go on?  You have most likely experienced one of these examples at one point in your life.  And, though an imbalanced menstrual cycle is not the only physiological thing to point a finger at, it is a key stone, and therefore by influencing it, you can directly influence all other hormonal processes in the body for the entire month.  I have personally found that, though not the answer, working with your menstrual cycle can be a powerful all-around balancer and reaps significant rewards.
How to Align your Cycle with the Moon
There isn't an agreed-upon method to align your physiology with the moon and her cycles because science can't explain how the female menses is triggered by the moon.  It remains a beautiful mystery.  One promising theory is that the pineal gland, the storehouse of melatonin and a major player in controlling your circadian rhythm (aka triggered by light), is triggered somewhat similarly by moonlight.  According to this theory – and many other non-scientists agree – basking in the moonlight regularly can help synchronize your body with the moon.
As much as attuning yourself with natural light of the moon is helpful, exposing yourself to artificial light can be harmful. Though artificial light is almost impossible to avoid in this day and age, it is beneficial to limit your exposure to the working hours of the day, while the sun is still up. The most harmful time to spend long hours on your phone or computer is in the night and early mornings, when it may confuse the pineal gland and throw your hormonal rhythms out of wack.
Attuning your Mind to your Menses
When your physiology is synced with the moon, the potency of your menstrual cycle is enhanced.  But, as it takes time to sync your body up with the moon, there's another practice that will help to enhance the power and ease of your cycle that you can begin momentarily.  This is aligning your mentality to your menstrual cycle.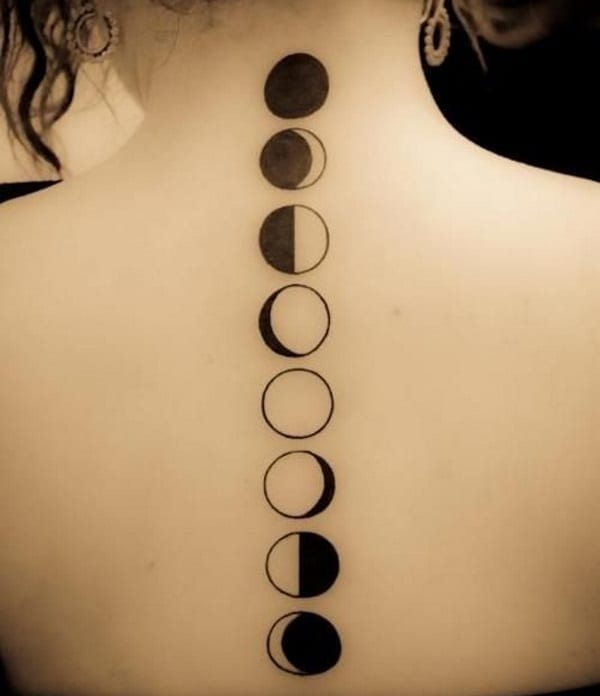 One way to approach your cycle differently is to divide your entire cycle into four parts, each quarter representing a different female archetype.  These different archetypes help you become aware of the energy present in your body and consciously attune your actions appropriately.  Personally, I have experienced great relief through this process.  Relief through realizing that my low energy or tough love attitude is not a fault in my person but a natural rhythm of my body; that I am not meant to have the same level of energy or the same ability to connect with others every single day of the month as I have subconsciously been taught to do as a woman; that everything is a cycle, that you can let go of things because they always come back around; that what my body and mind naturally want is usually exactly what I need and therefore not only permissible but honorable.
There are countless ways and infinite tools to use tools to help align your mindset around your moon cycle.  This particular sample comes from, Kassandra Reinhardt, a woman who was on the Yogahealer podcast back in June. In this approach, there are four different female archetypes, one for each quarter of the moon and they include: the maiden, mother, wild woman, and crone.  
The first quarter, the week following the last day of your period, can be conceptualized as the "Maiden Phase." This is a time of newness and beginnings.  Have you ever felt naturally light and energized and excited in the days following your period?  You have fresh blood in your body.  You have just come out of your deep internally oriented time and are setting back out into the world, expanding again, possibly inspired by your new ideas and projects. This is a good time to begin new projects.
The next phase is the "mother phase" and this about the second week of your cycle and when you naturally feel most expansive and productive in the external world. This is a time leading up to and during your ovulation, and the climax occurs during the full moon. This is a time when you might naturally feel most expansive and loving, like a mother. You might want to give that business pitch or interview for a new job. This would be the best time to give a talk or host a party since you are naturally expansive and persuasive and social.
The third phase is sometimes termed the period of the "wild woman." This is when you may begin to turn inward. It is also said to be a time of refinement, while, following the climax of expansion, as you begin to contract again you begin to decide what you want to take with you through the next cycle, what matters, and what must be let go of. This can manifest as a "tough love" persona or even what some might term "bitchiness."  Since most women get a bad rap for this type of energy, this might be a tough one to embrace. But when I learned to embrace this, I, reaped huge rewards, like feeling deeply into my own independence and unique connection with the world, learning healthy boundaries, giving up the people pleasing and tapping back into your integrity.  
The final phase, the time of your actual period, is called the "crone phase." This is the time of deep self-reflection, deep rest, a deep letting go of all that that is no longer serving you.  This is a time of getting in touch with your own personal wisdom, your deep knowing or intuition. A time of destruction of sorts, but as women, we know that destruction is a necessary ingredient for new life.  And so follows the next maiden phase…
Once we as women remember the wisdom of our menstrual cycles and actively align with them, we will be able to better harness the deep power inherent in the female body. And all it takes is a little relationship-building with the moon and a small psychological shift to attune to where your body is energetically – that is all. It also can be extremely supportive and empowering to create a women's group that gathers during the new moon.  Whether for morning tea, a potluck or a drum circle, women's circles are what ties us all together. And as women, we are bridges between the natural cycles of the planet and the human race.  We get to give the world's gift of life to the rest of our species. The more in sync with our primal powers, the more supported and free we can feel and, in so doing, the better supporters and creators and leaders and people we can be in our world.