The Power + Simplicity of Feminine-Style Marketing in Yoga Health Coaching

Hi everyone! Cate here with Dana Skoglund. Dana has been in YHC mastery for two years, with her first pilot in April 2015. She is doing amazing things with her health coaching career, surpassing her goals in finance, impact, and reach each year. She just finished her 10th round of courses, and she now has two other mastery continuity programs that she's created. Today, we are going to chat about marketing and client outreach, and tackle some of the following questions:
How do I build a lead generation system to convert 60 people into my course again and again?
What is your conversion rate? When you get on the phone with them, how many people opt-in to your courses? If your conversion rate is lower than 30%, what's wrong with the system?
When in that sequence are you making an offer? Make the offer to have a strategy session with you sooner than later. When are you making an offer to join your program?
Is there a way to simplify?
Tune in to hear our laser coaching session that focuses on nurturing potential clients and making time for personal interactions, allowing you to advise them on what they truly need.
What you'll get out of tuning in:
Why personalized interactions are so important
How to use feminine-style marketing to nurture qualified leads
When to make an offer, and when to hold off
Links:
Show Highlights:
3:00 – When building your email list, think about how many people you need to hit your goal. Then consider how you can simplify it to reach the people who will sign up for your courses at the price you are willing to give them.
7:00 – Make sure you get yourself in a peak state before you coach someone into enrollment in your courses.
10:45 – Instead of pushing clients toward your courses, get interested in what's going on with them. When they come in, it's not about you and your values; it's about finding out more about them and what they need.
15:00 – Don't make an offer prematurely. Whether it's free trainings, body work, applications for more sessions, or making sure they see quality content that may help them personally, your work can really nurture them in what they need.
20:00 – In all content, you should always provide an opportunity for them to have a conversation with you. This will allow people the opportunity to get in touch with you and your courses more quickly and efficiently.
22:50 – Ask people to refer their friends! More people are willing to give referrals than we typically ask. And referrals have the best conversion rate, with 80% of people buying when they have a referral from a friend.
Favorite Quotes:
"In any kind of coaching, you want to get yourself in a peak state before you dial or sit down with someone." – Cate Stillman
"I choose to feel confident that I can do this. I listen deeply. I come from a place of wholeness. I trust myself and the universe." – Dana Skoglund
"Reevaluate how you have your home page so people can just get right into a strategy session with you." – Cate Stillman
"At some point paying for leads is faster." – Cate Stillman
Guest BIO: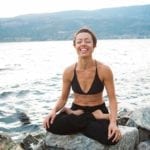 Dana Skoglund is a Certified Yoga Health Coach, Yoga teacher, and mother of two rambunctious young boys. She's been studying Yoga since 2000 and teaching since 2004, and she has over 1,000 hours of training in the styles of Jivamukti, Anusara, and Sridaiva. Her desires to take her health and well-being into her own hands and to learn how to keep her family healthy led her to Ayurveda in 2011. After implementing daily routines from Ayurveda and noticing the profound impacts they had on her energy and happiness, she began coaching clients into these better body habits in 2013. She aims to inspire others about the importance of health habits in crafting the lives of their dreams. Dana is also deeply passionate about travel, adventure, learning, movement of any kind, and the arts.

Cate Stillman founded Yogahealer.com in 2001 to guide Yoga people into Ayurveda and Ayurveda people into yoga. Built on the value of both personal and planetary thrive and a deep connect to one's ecosystem, community and body, Yogahealer grew into a team, 2 podcasts a week, regular blogging, an arsenal of courses to guide people into their potential, an a professional community + certification program Yoga Health Coaching. Cate wrote and self-published Body Thrive: Uplevel Your Body and Your Life with 10 Habits from Ayurveda and Yoga, an Amazon #1 Bestseller in Ayurveda, which helps people who dig yoga take a giant leap forward in their wellness trajectory with Ayurveda.