Yoga as a Business: Outlining Your Terms

As Yoga Health Coaches and wellness professionals, we all make the mistake of spreading ourselves too thin and agreeing to things that may not make sense for us or even make a big difference for our clients. How do you know which opportunities to agree to, and which ones to decline?

In this episode, Cate gives advice about being honest about your terms with anyone who wants to use your services as a yoga professional. She explains that it is okay to ask for fair compensation for your time and talent, and that this is how value is exchanged in the marketplace. You shouldn't feel obligated to do something every time it is asked of you, and by creating your terms ahead of time, you can avoid any miscommunications with potential business transactions down the road.
What you'll get out of tuning in
Why you should write out your terms before agreeing to provide your services as a yoga professional
How to turn down offers that don't make sense for you
How to outline your menu of services as a yoga health professional
Why you shouldn't beat yourself up about lessons learned: there are some things you can only learn through mistakes!
Links
Show Highlights
1:30 Grace asks Cate advice about struggling to put herself first at the risk of making other people disappointed or angry, and Cate explains that the question is not about disappointing people, but rather about making sure to lay out your terms ahead of time in any business transaction.
3:20 If your wellness business uses a retreat business model, it's all about your upsell: make sure you have permission to upsell your services before attending the retreat.
5:00 It has to make sense for you financially: explain your terms openly and honestly to anyone who uses your services. In the yoga industry, health professionals are notoriously bad at this: realize that  you are allowed to set terms for your services!
11:40 Take the time to design your menu of offerings (i.e., 10-week course, continuity, upsell). What does it look like? What is the offering? What is the exchange? Continuously revise your terms, your menu, and how you're exchanging value in the marketplace as your health profession grows.
18:00 We all get the right lessons at the right time: take ownership of your mistakes, but don't beat yourself up about not knowing something when it feels like you should have. Then, after you've learned a new lesson, ask yourself what your next step should be, and do it!
Favorite Quotes
"Have you ever struggled with putting yourself first, knowing that other people will be disappointed or upset or even mad at you?" – Grace Edison
"We're making a stand for the yoga industry as a whole… there are terms!" – Cate Stillman
"I can see now that it's not emotional, and that's where it's causing me emotional discomfort." – Grace Edison
"You can't sell in the grey zone. You sell in the black and white zone." – Cate Stillman
"Once you create the menu of offerings…, it actually creates the potentiality for the exchange." – Cate Stillman
"I don't want to learn stuff on my own. If I'm learning stuff, I hope that other people can learn it faster than I can!" – Grace Edison
"Some part of me thinks 'I should already know this,' but then the more conscious part of me thinks 'how would you know that'?" – Cate Stillman
"All that work upfront takes care of all the emotional ama on the back end." – Cate Stillman
"Questioning what we're needing to learn today doesn't really work… Accept that this is the lesson of the day." – Cate Stillman
Guest BIO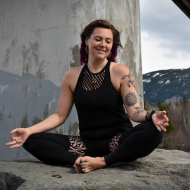 Grace Edison
lives in British Columbia, Canada. She's a mom of twin 8-year-olds, a Yoga teacher, a 
studio owner
, and Yoga Health Coach — and she also
works for Cate Stillman in Admissions at Yogahealer! More than anything, she loves to make people laugh and has a not-so-secret dream of doing stand-up comedy.
Grace has a strong passion for empowering others to take their health and wellness into their own hands. She loves building authentic relationships, making people laugh, and creating supportive communities. After a long-standing relationship with severe depression, Grace has found deep relief through the habits of Ayurveda — and much credit is due to Cate and her Body Thrive program. After taking Body Thrive several times and jumping into Yoga Health Coaching, Grace came aboard the Yogahealer team. If you're interested in applying for or discovering if you're a good fit for the course, please contact her at graceg@yogahealer.com to book a strategy session!

Cate Stillman founded Yogahealer.com in 2001 to guide Yoga people into Ayurveda and Ayurveda people into yoga. Built on the value of both personal and planetary thrive and a deep connect to one's ecosystem, community and body, Yogahealer grew into a team, 2 podcasts a week, regular blogging, an arsenal of courses to guide people into their potential, an a professional community + certification program Yoga Health Coaching. Cate wrote and self-published Body Thrive: Uplevel Your Body and Your Life with 10 Habits from Ayurveda and Yoga, an Amazon #1 Bestseller in Ayurveda, which helps people who dig yoga take a giant leap forward in their wellness trajectory with Ayurveda.