Lessons Learned on the Path of a Yoga Health Coach

Suzanne Lynch has coached at least 10 rounds of her coaching program and she is in her second round of serving as a mentor in Yoga Health Coaching. One of her biggest lessons learned is to get help when she needs it. She also learned that she doesn't have to run her course in the same way that Cate runs Body Thrive. She can put her own spin on it and include activities that her course members want, so her course continues to evolve. Learning to trust the process and lean into the support of the YHC community was a lesson that she learned and that she now finds herself continually reminding the YHC members she mentors.
What you'll get out of tuning in:
Why you don't need to be tech savvy or "just like Cate" to be a good Yoga Health Coach.
How the habits of Body Thrive carry us through tough times.
How to determine when you need support and when that support needs to be paid help.
Links Mentioned in Episode:

Show Highlights:
9:15 -14:47 Suzanne talks about her struggles with learning the technology needed to run an online course. Through mentoring, she learned that the tech was just a supporting component of the real work: connecting with and supporting other people.
14:48 – 17:59 Suzanne and Rachel discuss the process of making a course your own by utilizing your own strengths and interests and by responding to the needs and desires of your course members.
22:30 – 31:14 – Suzanne talks about how the habits of Body Thrive carry her through tough times in her life.
32:37 – 40:00 Suzanne talks about how her coaching skills have evolved and how she models the practice of the habits.
40:00 – 42:15 Suzanne and Rachel discuss how Yoga Health Coaches show up as we are with no pretense.
43:23 – 53:05 Suzanne and Rachel discuss how to determine when you need support and when that support needs to be paid help.
58:00 – Suzanne talks about the new framework she is using for her work: energy management, nourishment, connection, and the launch.
Favorite Quotes:
"I'm still in a learning curve." — Suzanne Lynch
"Those are the things – thinking I had to be a tech expert, thinking I had to have it all done yesterday, thinking I had to be like Cate, and then dealing with life issues – the biggest life issues of my life came up in that period – so I'm really grateful for all the growth that I had, and the support of the habits, and the support of the community." — Suzanne Lynch
"One thing I appreciate about Yoga Health Coaching is that we're talking about what is really happening in our lives" — Suzanne Lynch
"This is my ministry, my work." — Suzanne Lynch
Guest BIO: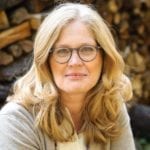 Suzanne has been helping people get out of pain, and live happier, healthier lives for over 12 years. She has a special talent and affinity for Therapeutic Yoga, and loves helping clients feel better than they have in years. Suzanne has been a meditator for 30 years, and was certified in 2001 by the NACC as a Catholic Chaplain. She has studied yoga since 1989. Suzanne lives in Saratoga with her husband, Bruce. She is a mother of two grown children. Connect with Suzanne on her FB page and get more info on Suzanne's website.

Rachel recently left an academic administrative position of almost twenty years to dedicate herself more fully to helping others tap into their purpose, align their habits with their deeper wisdom while redefining their relationship with time. She is super stoked to be the Coaching Team Manager for Yogahealer & Yoga Health Coaching. This merges her savvy admin skills with her love of conscious business. She's an entrepreneur, a mother, a wife and a lover of wild places. As a Certified Yoga Health Coach, with an MA in Environmental Studies, and Certified Yoga Teacher, she's primed to provide another level of conversation at this dynamic intersection of yoga, ayurveda and living in alignment with nature.