From postpartum to thrive: Carly Banks shares her story of how she became a Yoga Health Coach

Grace Edison talks with Carly Banks, a mom and Yoga Health Coach who went from real estate/construction to habit coaching after taking the Body Thrive course with Grace. Carly talks about how the course helped her transform her postpartum depression into a healthy desire to teach the habits she learned to others. Both Grace and Carly talk about the group dynamics in the Yoga Health Coaching community and how they help all members grow.
What you'll get out of tuning in
Why groups are important for personal growth
What you'll get from other Yoga Health Coaches
Why it's important to show up as yourself when you teach others
Links:

Show Highlights:
02:24 – Carly tells her story of how she came into Body Thrive YHC program with Grace
07:11 – Carly talks about her experience in the program; when she started she was suffering from postpartum depression, and afterwards she wanted to share what she learned
09:50 – Carly discusses how she went from not being involved in the wellness community to finding the people for her first Body Thrive pilot
15:39 – Grace and Carly discuss the importance of "being real" and showing up as ourselves when we lead groups
17:58 – Carly talks about running her first pilot
23:20 – Grace and Carly discuss the importance of the YHC forum and community and accountability partners and the opportunity to coach
Guest Bio: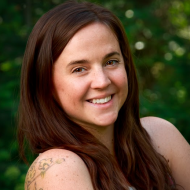 The 
Body Thrive
 path led Carly to a new and exciting world where all can be accomplished with ease. Adding YHC certification training to work and parenting is proving to be easy, with the right tools. Carly's shattering old patterns and false beliefs about herself, to become the person that she and her family deserve.  Connecting? Connect and hear more about how Carly juggles life as a busy mom at 
Nourished living
.

Grace Edison lives in British Columbia, Canada. She's a mom of twin 8 year olds, a Yoga teacher, studio owner, and Yoga Health Coach — and she also works for Cate Stillman in Admissions at Yogahealer! More than anything, she loves to make people laugh and has a not-so-secret dream of doing stand-up comedy. Grace has a strong passion for empowering others to take their health and wellness into their own hands. She loves building authentic relationships, making people laugh, and creating supportive communities. After a long-standing relationship with severe depression, Grace has found deep relief through the habits of Ayurveda — and much credit is due to Cate and her Body Thrive program. After taking Body Thrive several times and jumping into Yoga Health Coaching, Grace came aboard the Yogahealer team.