Native Genius: Promoting your Brand Around the World

In this episode, Cate gives Alexandra Epple, one of the Top 3 YHC Bloggers, a platform to gain insight into growing her wellness business and ask Cate some of her most pressing questions:
As I explore business opportunities in Germany, I wonder if going fully online makes more sense than running my business locally. It is difficult to find places to give talks, but many local people are not interested in learning online. Finding people online means they are relatively tech savvy, so I therefore won't reach people who are not competent with Facebook and the like. What strategy do you suggest to get the biggest bang for my buck?
Should I offer the courses and resources in German that I already offer in English? I would basically repurpose the resources I already provide: the same talks, same tip sheets, etc., and just adjust it to the local language.
I have a lot of pieces in place at a 1.0 level in my wellness business: the podcast, the blog, tip sheets, a newsletter, and a free online talk. My biggest obstacle is exposure. It is time to advertise and build my list. What are the most productive list building strategies both for Germany and America?
Check out how Alexandra's questions are answered, and how you too can gain the practical tools and insight Cate provides for business growth and exposure in different places around the world.
What you'll get out of tuning in:
When to move your business online
Where to host retreats, and how to make them as impactful as possible
How to develop your brand to reach people around the world
Links:

Show Highlights:
2:20 – If you are in a location with a small population, develop your business online while hosting retreats a couple times a year. That way, your business and its courses can be more accessible while still providing clients some in-person interaction.
4:00 – Use retreats to attract people to your wellness business: provide different packages that include retreats and courses in various combinations, with the best deal being the one that combines everything you provide.
8:15 – Host retreats in places where people actually want to go! This will give people further incentive to attend, and give you an opportunity to further build your brand.
12:50 – If you are bilingual, or live in a place that has less exposure to yoga and Ayurveda, market your business to that space. That population is the one that needs you the most: you understand them in a way that outsiders can't, and can deliver your health messages in a way that honors their culture and traditions.
15:30 – By promoting your brand in places that haven't been exposed to yoga or Ayurveda, you don't have to have as much of a niche brand. You can create a community with people of all different backgrounds and walks of life.
Favorite Quotes
"They want what I have. Good start. Now where do I go?" – Alexandra Epple
"When you just bring your people together with your values, it enables something else to happen." – Cate Stillman
"Go where your native genius is an asset." – Cate Stillman
"How can I blend this? How can I make it so people are open to it?" – Alexandra Epple
"This is really cool, what we're doing: to have all those generations leaning in and learning together, and respecting each other's perspectives…" – Cate Stillman
Guest BIO: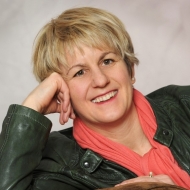 Alexandra Epple is an Ayurvedic Practitioner, yoga instructor, Yoga Health Coach, bodyworker and badass leader. Her approach to health is super practical and down to earth. She supports mature women to transition through menopause gracefully and come out the other end feeling better than they ever have – vibrant, hot, juicy and lusciously healthy. Her goal is to guide you through the nutrition and lifestyle jungle and, maybe even more importantly, overcome inner gremlins so you can finally stop procrastinating and boldly pursue what is right for you. She is the founder of Women Gone Vibrant, a podcast to revolutionize the way you think about your body and unapologetically create the next you.

Cate Stillman founded Yogahealer.com in 2001 to guide Yoga people into Ayurveda and Ayurveda people into yoga. Built on the value of both personal and planetary thrive and a deep connect to one's ecosystem, community and body, Yogahealer grew into a team, 2 podcasts a week, regular blogging, an arsenal of courses to guide people into their potential, an a professional community + certification program Yoga Health Coaching. Cate wrote and self-published Body Thrive: Uplevel Your Body and Your Life with 10 Habits from Ayurveda and Yoga, an Amazon #1 Bestseller in Ayurveda, which helps people who dig yoga take a giant leap forward in their wellness trajectory with Ayurveda.