The Solopreneur Wellness Pro with Alexandra Kreis

Being a solopreneur doesn't have to be lonely. Tune into the Yoga Health Coaching Podcast, and find out how to grow your business in alignment with your beliefs.
What you'll get out of tuning in:
How do you run a "company of one" as a Wellness Pro?
Are you running a business or a non-profit as a Wellness Pro?
When should you hire help?
How do you focus on your zone of genius and outsource that which is outside of it?
How do you own your Worthiness and name your price?
Links Mentioned in Episode:

Show Highlights:
Cate tells how she got to know the different business structures
Cate shares what attracts her in a business structure
Cate explains how she decides when to hire help
Timestamps:
1:48 Alexandra shares her background
5:58 Understanding different structures of business
15:42 What would you fund with a bigger paycheck?
27:32 Knowing when to hire help
33:07 Understand what you are worth versus what you think you are worth
Favorite Quotes:
"Increased impact needs more structure to channel more flow or more energy"
"There's an honesty in the marketplace where you can see the actual value that something has, as it's being traded today"
"If you had a bigger checkbook to write from, what would you fund"
"When I'm honest in integrity with Dharma, there's an ability to do more"
"Double your prices to see if you can sell it. See if someone else values it more"
Guest BIO: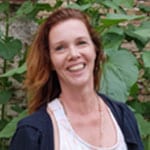 Hi, my name is Alexandra, and ever since I was a little girl, I have been passionate about helping people to reconnect with their nature to understand that we all have the right to be happy and fulfilled. I believe that providing people with tools to explore themselves, gives them the power of healing that lies within us.
It is, therefore, no coincidence that my professional career has brought me into the deeper layers of self-awareness and self-discovery, whilst assisting others on their own path.
I'm a yoga teacher since 2002, an Ayurvedic Lifestyle consultant for 13 years and in 2016 my life changed 180 degrees when I became a Yoga Health Coach.

Megan joined the Yogahealer team in 2018. Her insatiable curiosity about ancient wisdom in a modern context led her to Cate and Yogahealer. She currently resides in the mountains of Colorado where she takes any opportunity she can to take extended travel in her camper. She has a background in Yoga, communication, events, marketing and is known as a "Jane of All Trades". Megan thrives on learning new skills and supporting others in any way she can to help them to live their 'thrive'.